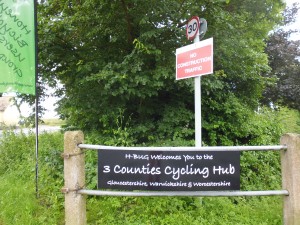 A full day of H-BUG cycling events for every level of capability.
Cycling clubs and groups passing through the village and recording their visit with a photo at one of several village sites.
Independent riders doing the same.
At the hub of the best cycling terrain in Warwickshire, Gloucestershire and Worcestershire,
Honeybourne offers cycling opportunities for everyone from one flat mile to one-mile high.
Whatever your level of cycling capability there will be something to suit you.
Cycle clubs, groups and independent riders from all over the three counties are invited to visit Honeybourne, take a picture at one of the recommended photo-opportunity sites and post on the Honeybourne CycleFest Facebook page (alternatively, email to steve(at)stephenbullen.com).
Why not put your own cycle ride together (footballers, rowers, tria-athletes, rugby players etc), and wear the jersey of your favourite charity to raise their profile.
There will not be any charges or charities to support. This event is all about fun and fresh air on your bike.
H-BUG (Honeybourne Bicycle Users Group) will run a local programme of organised cycle rides during the day:
07.00 A 15-mile "wake-up" cycle ride ("Aspire").
08.30 A 10-mile cycle ride ("Aspire").
10.00 A short cycle ride (between one and six miles) for all the family ("Family").
11.00 A 27-mile cycle ride up into the North Cotswolds ("Challenge").
14.00 A 15-mile cycle ride ("Aspire").
16.00 A family off-road cycle ride ("Family").
18.00 A cycle ride to The Fleece Inn, Bretforton  ("Family").
Why not join Steve to ride all these events during the day?