Welcome to Sport Honeybourne !
Our residents are involved in a wide range of exercise & sporting activities.
This portal will keep you informed as to what is happening in and around Honeybourne.
Something missing, or needing further explanation ? Then please let us know.
Everybody is encouraged to submit reports for your activities and club events.
With more than 60 different sports and exercise activities directly accessible from this website, you are sure to
find something of interest whatever your age, physical condition, or interest.
YOGA with Nikki Cook

Monday, Wednesday, Saturday
Honeybourne Village Hall
07484 7430
PILATES with Claire
Tuesday, Thursday
Honeybourne Village Hall
07554 192487
Ballet with Nikki Cook coming soon
Should Sport Relief come back to Honeybourne ?
Sport Relief have a new concept for 2018 ("Whatever Moves You") and have approached me to put on a new event in Honeybourne during the week of March 17 to 23.
The event will encourage our community to get moving in a whole series of different ways:
Endurance challenge: cycling, tennis, swimming etc
A sports match: any sport
Take on an epic distance: row, cycle, swim as a team
Tag-team treadmill: epic distance by team e.g. London to Brighton mileage.
The Nations Billion Steps Challenge
A good idea for Honeybourne?
Let me know your ideas, and your ability to assist and I will then make a decision about accepting this challenge.
Steve Bullen
07971 989 430
Sport Relief came to Honeybourne again on 20th March 2016. This was the final event of the national "Sport Relief Mile".
See "Other" > "Sport Relief" for pictures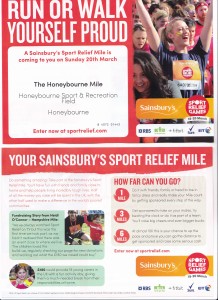 "Simply Run" came to Honeybourne
This popular programme is designed for people who do not jog or run.
The weekly sessions start with a walk and then
slowly build up over nine weeks to a 3-mile run.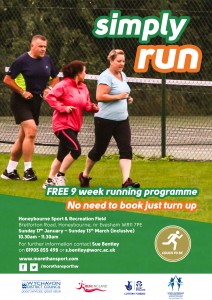 Our cyclists appear on-screen with Alistair McGowan at The Regal Cinema, "Greening the Vale"
http://youtu.be/IEno7KtVXU8 (22.40 to 24.33)